Little Blessings Testimonial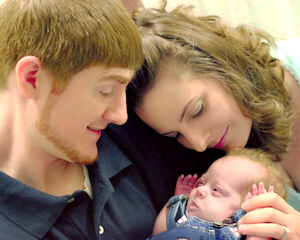 "Putting Life into Focus"
June 2006
When a baby comes into the world 14 weeks early it is a reminder of how precious life is. Owen Michael Brancamp was born on December 29th, 2005. Owen was a twin, and his baby sister Reese Cassidy didn't make it, forcing him into the world too soon. Owen caught pneumonia early on in his fight to survive, damaging his lungs.
Today he is 6 months old and continues to live in the NICU at Kaiser Permanente Hospital in Sacramento, California. The nurses and doctors have become quite attached to the little guy and needless to say have spread the word about his plight.
All of the time and dedication given to Owen's care has kept him alive and given him strength to fight. Prayers from people all over the United States have come his way and still continue. Owen's family, Sarah and Joe, were first time parents. With a baby born premature, they were unsure of what the future would bring. Sarah's coworkers donated time so she could leave work to be with her baby 24 hours a day. Joe worked all day and came to the hospital after his shift, staying late into the night to be at his family's side.
When your baby is clinging to life in the hospital, each day is precious and there is little time to think about or plan the things that other parents do. The sole focus is on your child's survival and spending every moment you can with them. You no longer have time to clean your house or shop for groceries, let alone schedule a portrait session for your child. Sarah and Joe didn't know you could have a family portrait done in the hospital, but their extended family at Kaiser Permanente did, and they called someone who could help. This is how Sarah, Joe and Owen met Diana Miller; a photographer who donates her time to families just like Owen's to make a difference in their lives. The week before Mother's Day, Diana came to the hospital and took family portraits for the Brancamps.
This act of kindness has helped Owen's parents in many ways. Like Sarah said, "You have no time to focus on the things that you would normally do if you had a new baby", your focus is on your child's survival". "Taking family portraits made me stop, and for a brief moment in time, get to do something that everyone else does when they have a baby". Having a family portrait done so they could share their son with the world also gave Sarah and Joe a new source of strength in their fight for Owen's life.
Documenting Owen's life in the NICU was more than special. Diana also asked an associate of hers to airbrush out the life support system that he was hooked up to. Owen has been on a ventilator most of his life and no one has seen a picture of his beautiful face. Diana made a CD of the pictures she took for the Brancamp family and put it to music for them to enjoy and cherish. She also offered Sarah and Joe a portrait to keep forever of their beautiful little boy. These photographs have captured a very special day that will have meaning to the Brancamps for the rest of their lives – a snapshot in time that says, "sometimes you have to stop and smell the flowers" and put life into focus.
-Debbie Hanson, Owen's Grandma
{Update from Sarah, Owen's Mom: After a long fight for his life, Owen passed away on 07/31/06. My life will always be changed. He was so beautiful and such a wonderful boy. Kaiser gave every resource they had to help Owen with his battle. Owen taught everyone around him.}