(I decided to re-post this shoot with Mayor Johnson as I have had a lot of photographers ask me where it was taken and how we photographed it)
I've had the pleasure of working with Mayor Johnson since 2008 when he was running for Mayor of Sacramento.  It was really interesting and exciting working with him and his staff and photographing his VIP fundraisers as he was campaigning.  I'm glad to say we have kept in touch since he was elected and I have photographed him several times since.  I also was hired to photograph the new Sacramento City Council members in December 2010 as well as a group portrait in council chambers.
The goal for this last portrait session was to get a relaxed, candid-style portrait for the mayor to use at City Hall as well as his website and press releases.  We all had a good time with this session.  The best way to get him to relax during the session was to have some of his staff members come along to interact with him.  Soon the mayor was telling stories and had everyone laughing, which resulted in this portrait.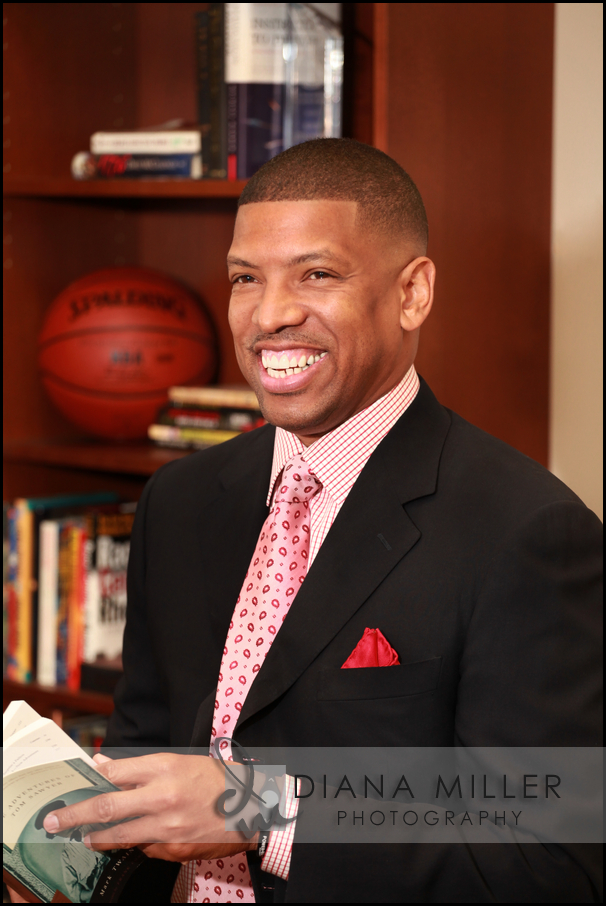 This was taken in the Mayor's library.  He was also going to read to a group of schoolchildren from Tom Sawyer later that day 🙂
"Photo tip": We took the inside photo in his library with 2 strobes, and the outside portraits were on the roof top of the new city hall, with the old city hall in the background.  It was challenging given it was a sunny July day, around 11am.  We had to keep moving backward and left to keep the mayor in the shade, and used two strobes to light him, one on my stroboframe and one off-camera.  With the bright Sacramento sun, that would be the only way to keep the correct exposure on his face as well as the background.  To do this, you meter for the background and turn up the speedlights to +2 or +3 to balance out the light.

This  small example shows what happens if you only used natural light for a sunny outdoor portrait.   If you wanted to keep the background with the old City Hall in the background and the blue sky, he would be totally underexposed, as in my small example image  OR to expose him correctly, his color would pick up the  blue from the shade and the background would be whited-out , which would defeat the purpose of going on the rooftop:)  If I can help you with a lighting question, please don't hesitate to ask.