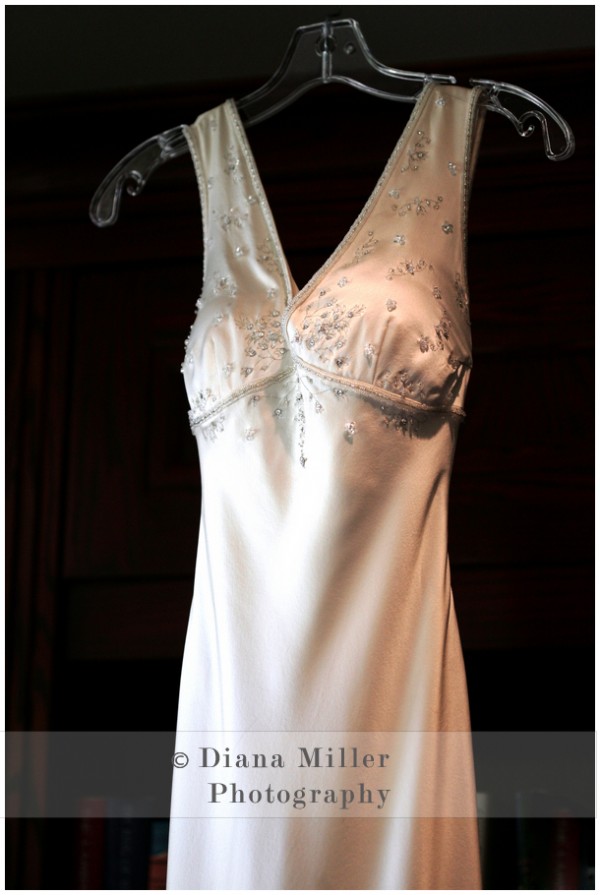 I saw a tweet the other day called "rock your wedding dress hanger shot" and decided to check it out and saw this post on PreOwnedWedding Dresses.com  Being a wedding photographer, I am always interested in what's new out there.  I thought this was a great idea and loved the hangers (pictured below) to show off your dress.  It is such a small detail, but sometimes I really wish we had a pretty hanger for the wedding dress shot we do at the "getting ready session".  So bridesmaids, friends and family of brides – here is a unique gift idea she probably won't get two of!  -Diana
One of my favorite getting ready pictures is the wedding dress on a hanger.
These pictures, usually taken just before the bride puts the gown on, brim with excitement, anticipation and of course, the sheer prettiness of the gown. And, as if these images aren't fabulous enough, you can actually make them even more personal with a customized wedding dress hanger.
For a mere $25 dollars and a few weeks time, you can find an Etsy seller who will make you a beautiful hanger, personalized with the words that are perfect for you.  (This just might be the best bridesmaid-to-bride shower gift I've ever seen!)

Click on an image above to reach its Etsy seller.
You can even create these adorable hangers to say "Groom" "Bridesmaid", "Mom" or "Mother of the bride".  Really anything you can dream up.
If a wedding dress hanger shot is on your shot list, head over to Etsy now and find the hanger that will make your dress shot uniquely yours.
Josie was so kind to let me reprint her post from  PreOwnedWedding Dresses.com   (I changed the two dress photos out with my own photos )  Be sure to check out their blog – lots of great ideas and beautiful dresses including designers such as Vera Wang and Monique Lhuillier!