Diana Miller Photography is proud to be a sponsor
of the Jubilee Farm inaugural Pig Roast
as we support local food and local farmers…and you're invited!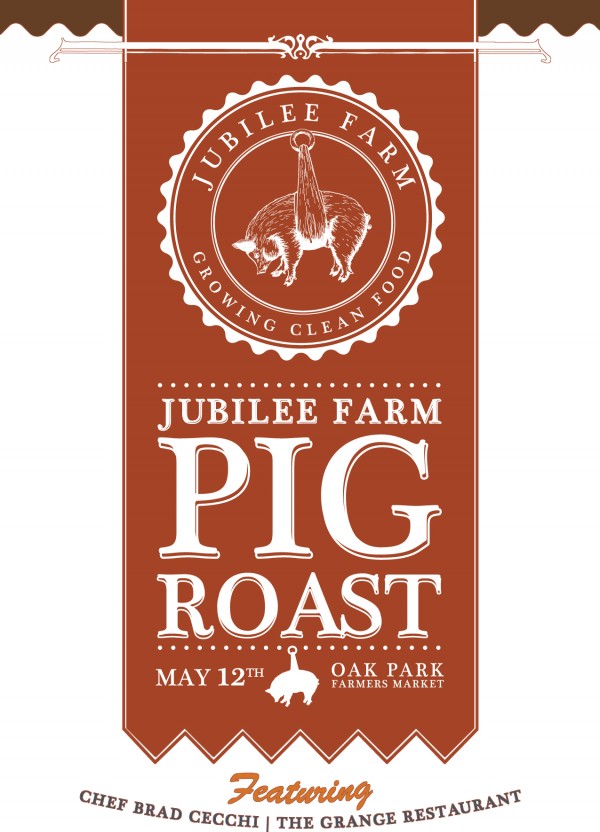 Saturday May 12, 2012
McClatchy Park 3500 5th Ave
Oak Park Farmers Market: 9 AM – 1 PM 
Pig Roast Lunch: 1 PM – 5 PM
Chef Brad has put together a fantastic, local menu:
Jubilee Farm Berskshire Pork including:
Roasted Whole Pig
Salt Roasted Pork
Grilled Rack of Pork
Roasted Porchetta
Fresh Sausages
Farm Fresh Chicken (Cooked Inside the Pork)
Baked Beans
Grilled Asparagus
Farmers Market Strawberries
Farmers Market Potato Salad
Vegetables Boulangere
Grilled Vegetarian Option Available*
Coca-Cola provide by  Sacramento Coke Bottling Company
Apple Cider & Juices provided by  Barsotti Family Juice Co.  
The amazing Bacon Maple Doughnut by  Doughbot Doughnuts
And much more!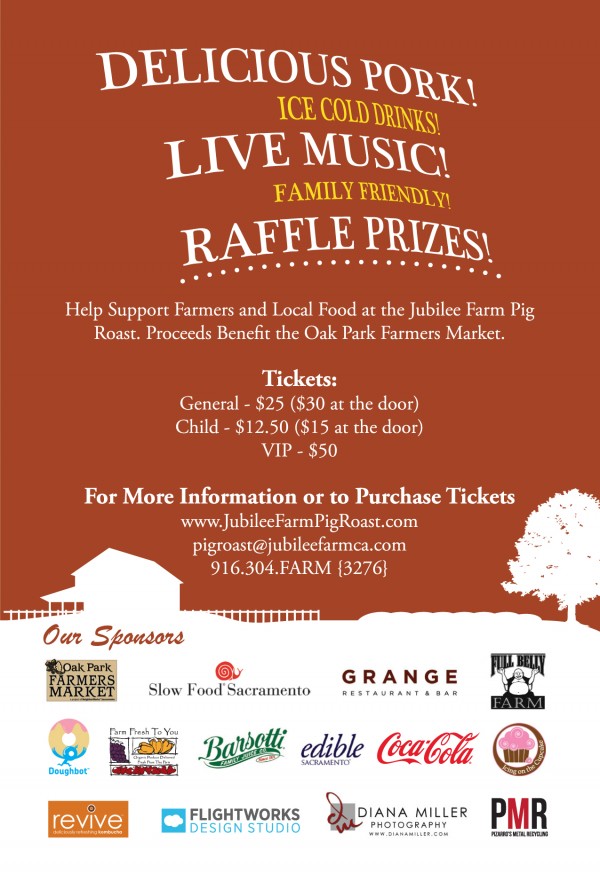 All of the vegetables will be sourced from sponsors local farms or farmers represented at the
Oak Park Farmers Market. 
Come as early as 9 AM for the Oak Park Farmers Market, meet local farmers, enjoy the great local community.
 The Roasted Pig Lunch will start around 1 PM.
Live music and activities for the kids will be provided.
Children under 15 are $12.50
General Tickets are $25
*VIP Tickets are $50
*Includes regular admission plus a Jubilee Farm Gift Basket filled with
fresh local fruits, veggies, jams as well as Salami, Sausages,
pork spread/pate, bacon jam all prepared by Chef Brad
Be sure to Like our Facebook Page here to be entered into our weekly sweepstakes. We are giving away the following:
– Free Pig Roast T shirt
– Free Jubilee Farm Hat
– Sponsors Prize Pack (cool stuff from our sponsors)
– Free General Admission