Our good friend Michelle Klaff contacted us last month to photograph her son, Nathan, who recently received the rank of  EAGLE SCOUT!  We decided to keep it simple and let all of Nathan's merit badges do the talking. With this in mind we simply hung an American flag behind him and asked him about his experience progressing from a Boy Scout to an honorable Eagle Scout.  Resulting much like his experiences as a Scout, you can truly see what a fine young man Nathan has become!
Nathan Klaff is a Scout with troop 465 of El Dorado Hills.  Eagle Scout is the highest rank of the Boy Scouts of America.  Only 2% of all Boy Scouts actually earn the rank of Eagle Scout.  A Scout must earn a total of 21 merit badges in order to become an Eagle Scout.  Nathan earned a total of 34 merit badges ranging from horsemanship to environmental science.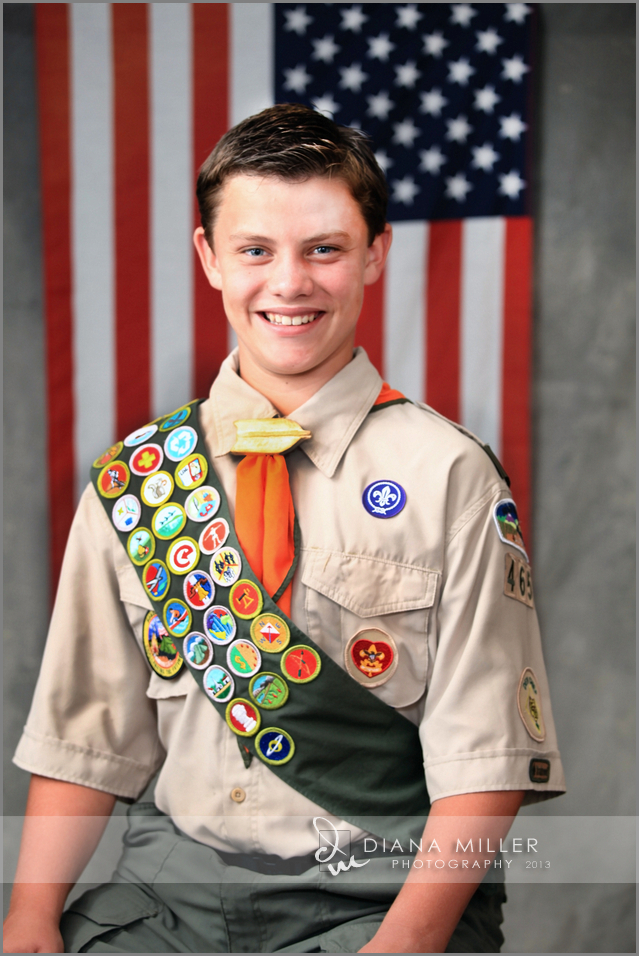 A Boy Scout must also lead a project that benefits a nonprofit group within the community.  Nathan planned and lead a construction project at his church Lakehills Church in El Dorado Hills. His project improved the landscaping as well as added additional seating for guests to enjoy the outside lawn area.  Nathan hopes to continue with Boy Scouts as an instructor for younger scouts in his troop.
Wow, great work Nathan!! We know that this is a prestigious award and hope that all the merits earned continue to help you in your life's endeavors.
From all of us at Diana Miller Photography, we congratulate you on becoming an Eagle Scout!!!