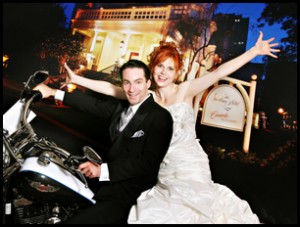 Liza Kilgariff, Owner, Golden Gourmet Catering"Diana is one of the most highly respected and well known photographers in the Sacramento area community of wedding vendors. Besides being an excellent photographer she is also actively involved with the many organizations that serve to educate and unite the wedding vendors community to better serve their clientele. Her photography is living art. We highly recommend you visit her website and explore for yourself."
Shelly and Dion Carr: Diana, Dion and I would like to thank you and your team for your unparalleled professionalism.  Working with you, Ian, and Ricardo was truly a pleasure, and we're excited beyond words to see the fruits of your labor.  You were efficient, prompt, fun-loving, and most of all very real and approachable.  I would say that the thing Dion and I love most about working with you is the human element you brought to our experience even though you are behind the lens.P.S. For future life endeavors that must be captured on film, we can't wait to come back!
Arthur Hervey "Arty the Party" from Harrah's Lake Tahoe: I love Diana's work so much, I'm thinking 'bout getting re-married just to have her shoot the wedding!
Lisa Delsman-Virassammy: I can't say enough about Diana Miller!  Our experience working with Diana was phenomenal.  My husband had worked with Diana previously as she photographed his band a while back.  That being said he purposely saved Diana as our last interview in the wedding photography selection process.  We met with a total of 4 wedding photographers in the area with my husband knowing in the end Diana would be our final selection.  Instead of letting me in on this bit of knowledge he wanted to be sure I had the experience of seeing all options that were available in order to make a solid and confident decision.  Prior to our first meeting with Diana, I felt as if we had a good option with another photographer we had met with previously.  After meeting with Diana there was absolutely no question as to who we wanted to have capture one of the most important days of our lives.  My husband laughed once he finally let me in on his little secret as we drove away from our first meeting with Diana.  He had known all along that Diana would be our wedding photographer yet went through the motions to make sure I was completely comfortable with our decision.Diana was such a pleasure to work with!  Not only is her work simply amazing but she has such a genuine personality as well.  We had a blast at our engagement shoot in Old Town Sacramento which only made us that more excited for the wedding day.  The engagement pictures turned out great and we knew the wedding pictures would be more of the same. Diana and Ricardo were so accommodating and fun to work with on our wedding day. Diana had provided a "wedding checklist" in the packet of information she gave us at our first meeting.  This checklist was so helpful as we packed all the essentials and prepared an "emergency kit" for the wedding day.We couldn't be happier with our decision to work with Diana and would highly recommend Diana Miller Photography.  You won't only have memories from a very special time in your life but you will have photographs that capture those memories you can cherish for a lifetime. We look forward to definitely working with Diana again!
Elana Chambliss, Owner of Facia Bella Salon"Quality + Detail + Extraordinary Artistry = Diana Miller"
Kathy Daniels, Mother of the Bride: "Diana and her staff are amazing. They listened to what my daughter, Amber and her husband wanted from their wedding photos and gave them the most wonderful experience to remember. Photos are all you have left when your wedding day is over and Diana captured every moment with perfection. Thanks Diana!"
Doug LaVine Wedding Entertainment Director™, Music on the Move DJs & MC"I work as a Master of Ceremonies and Wedding Entertainment Director. Every wedding I do has a photographer. Each wedding is different, and every photographer is different as well. Diana Miller has her own style, and that lends to amazing and unique photos. Diana is one of the Best of the Best. Working with her on a wedding day is always a pleasure. She is happy, smiling, friendly and very personable. Her finished photos and products are exceptional. It is with confidence that I recommend her to my brides, knowing they will be delighted, not only on their wedding day, but for years to come."